2020 Jeep Gladiator vs Honda Ridgeline

Are you looking for style and adventure in your next vehicle? Both the 2020 Jeep Gladiator and the 2020 Honda Ridgeline would make a great addition for drivers in Savannah, Hardeeville, and Pooler, GA.
The team at Chrysler Dodge Jeep Ram North Savannah has put together this in-depth comparison to give you the inside scoop on what each of the trucks has to offer. Once you're finished reading, be sure to reach out to us with any questions you may have!
Jeep vs Honda: Off-Roading Capabilities
Related Content: Check out Jeep Homeland!
Jeep is one of the most iconic vehicle brands for off-roading, which is why the Jeep Gladiator is an excellent choice if you're looking for a thrilling experience both on and off the road.
It's important to note that the Jeep Gladiator is the only Trail Rated® pickup truck ever with its standard heavy-duty Dana® 4×4 axles, skid plates, and tow hooks. To get awarded such an honorable badge, the Jeep Gladiator was put to the test with the toughest terrains to prove its impressive off-roading capability.
As for the Honda Ridgeline, this truck also brings some impressive features to the table. The Ridgeline offers an All-Wheel Drive System to help make your off-roading experience smooth sailing. Even though it's a great system, it isn't able to compete with what the Jeep has to offer.
When it comes to off-roading, the Jeep remains the champion with its superior 11.1-inch ground clearance, Trail Rated® features, and 30-inch water fording depth.
Towing Capacity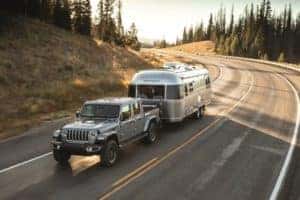 If you're in the market for a truck, it's likely you're looking for a vehicle to help you tow your heavy trailers, equipment, and more. That being said, getting the most towing capacity out of your vehicle is key. Lucky for you, both the Jeep Gladiator and Honda Ridgeline can help you get the tough jobs done.
The 2020 Jeep Gladiator is designed to tow up to a best-in-class maximum towing capacity of 7,650 pounds when equipped properly. On the other hand, the Honda Ridgeline only has a maximum towing capacity of 5,000 pounds when properly equipped, making the Jeep the obvious winner when it comes to towing capability.
Interior Cabin Highlights  
Enjoy a nice relaxing ride in both the Jeep Gladiator and the Honda Ridgeline, thanks to a variety of impressive interior cabin features. Both vehicles come standard with amenities including USB ports and 60/40 folding rear seats.
In the Jeep, you'll find features like an 8-Speaker Audio System, which is designed to make you feel like you're experiencing your own personal concert inside the car. Plus, the Gladiator offers a Uconnect® infotainment system, which allows you to find restaurants and ATMs, connect you with SiriusXM Guardian™, and more!
Not to mention, the Gladiator offers an available removable weatherproof Bluetooth® speaker. This feature recharges as you drive and can easily be removed when you want to take your tunes with you. The speaker has a high level of dust protection and is water resistant in up to three feet of water for 30 minutes.
Although the Ridgeline has some pretty great interior cabin highlights, the standard truck only offers a 7-Speaker Audio System. For top-notch technology, the Jeep Gladiator is the more ideal option.
2020 Jeep Gladiator vs Honda Ridgeline: Which Will You Choose?
Also Check out the 2020 Jeep Gladiator Review!
Both the Jeep Gladiator and the Honda Ridgeline offer some great features, but as far as towing, off-roading capabilities, and interior amenities are concerned, the arrows are pointing toward the Jeep.
If you're ready to take a test drive in the 2020 Jeep Gladiator, then reach out to the team at Chrysler Dodge Jeep Ram North Savannah! With our help, drivers of Savannah, Hardeeville, and Pooler, Georgia, will be cruising the roads in no time!