2019 Ram 1500 vs Honda Ridgeline Car Comparison
If you're on the hunt for a pickup truck that's built to perform, you probably have your sights set on the 2019 Ram 1500 as well as the Honda Ridgeline. While both trucks provide you with an abundance of notable attributes, you'll only be able to choose one.
It's for that reason that Chrysler Dodge Jeep Ram North Savannah has put together this brief 2019 Ram 1500 vs. Honda Ridgeline car comparison. If you call Savannah, Hardeeville, or Pooler home, take a look to narrow down your options even more.
Spaciousness Inside the Cabin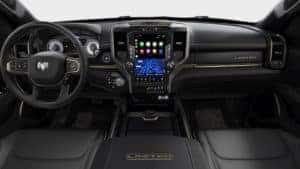 Whether you're giving some co-workers a ride to work or dropping your kids off at school, it's important that the truck you end up choosing has what it takes to make the experience accommodating for everyone on board.
You can be sure that the Ram 1500 will have you covered here due to the fact that it supplies you with plenty of comfortable space. The front row boasts 40.9 inches of headroom, 63.4 inches of hip room, and 66 inches of shoulder room. The passengers in the second row are bound to agree that they're afforded the same amount of comfort. Back there, the headroom comes to 39.2 inches, the hip room is 63.4 inches, and the shoulder room measures at 65.7 inches.
Unfortunately, you and your passenger are not going to find quite as much wiggle room inside the Ridgeline. Up front, there's only 40.1 inches of headroom, 59.1 inches of hip room, and 62 inches of shoulder room. The back row continues to fall short with 38.8 inches of headroom, 56.6 inches of hip room, and 61.5 inches of shoulder room.
Engine Lineup and Performance Capabilities
With its three possible engines, the 2019 Ram 1500 makes it possible for you to choose the engine that fits in the best with your specific lifestyle. The standard offering is a 3.6-liter Pentastar® V6 engine that makes use of 305 horsepower and 7,730 pounds in terms of towing capacity.
Aside from that, there's the available 5.7-liter HEMI® V8 and its 395 horsepower and 11,610 pounds of towing capacity, as well as the also available 3.6-liter Pentastar® V6 that can generate up to 305 horsepower and supply you with 7,730 maximum pounds of towing.
Not only does the Honda Ridgeline not offer as much variety, it also lacks the kind of muscle that you'll get out of the 1500 due to the fact that the Ridgeline model's sole engine produces a mere 280 horsepower and 5,000 pounds for towing.
On top of all this, the Ram 1500 also hauls with the best of them. Its maximum payload is 2,100 pounds, while 1,586 pounds is the highest payload number you'll be able to get out of the Ridgeline.
2019 Ram 1500 vs Honda Ridgeline: Which One Will You Choose?
As this car comparison clearly shows, the 2019 Ram 1500 takes advantage of its superior abilities within the all-important areas of interior comfort and performance to effectively outshine the Honda Ridgeline.
Now that you've seen a little of what it can do, you're ready to try the 1500 out for yourself. Savannah, Hardeeville, and Pooler drivers can make that happen by contacting a member of our team here at Chrysler Dodge Jeep Ram North Savannah today to schedule a test drive.